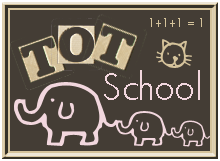 I just signed up with Tot School with this post. For more of Tot School go
here
.
As moms we often look at our children and ask ourselves "Where did the time go"? I just did that today, again. My youngest was doing a big ABC floor puzzle yesterday and to my amazement he was managing quite well all on his own. As I watched him working so hard at finding the right piece and fitting it in, I reminded myself that the puzzle has come out of the closet for him only a few times. I thought, he can't do this by himself yet. 
Think again mom.

I then decided that today I would give him a lacing card and a lace to see what he'd do. I didn't think his attention span would outlast the activity because till now, lacing beads have only been used as balls to throw around the floor. To my surprise, he loved the lacing card. He wanted me to make more and he specifically asked for a green horse so I printed a colouring page, glued it to a cereal box and punched holes... and voila. 
I made a pocket to store the lacing cards and any extras I make, just in case he really latches on to lacing.
My little guy is growing up.
Good Job little man.