There is still lots of snow on the ground and the midday temperature outside is averaging -5 to +10c. Our growing season is short so we like to start our gardening quite early by giving plants a good start indoors. That in mind, on Monday we planted two kinds of sunflowers in little discs of peat which are inside and both have the potential to reach of 6-8' in height.
One is a regular yellow sunflower, the other is a burnt orange colour. Both should be amazing additions to our yard. To track the progress of our sunflowers we are using this chart that I made. You can print the chart at 75% and add it to a lapbook or at 100% to fit a binder or folder with metal prongs.
A sunflower can be a fun hands on little study.
In spring, throughout summer and in september when the sunflower is at it's peak, a picture can be taken with a camera or a picture drawn by hand to visually record the stages/cycle of the plant.

Seeds can be harvested for next season or drie
d for eating. Leaving the seeds for the winter birds could be a nice idea too.
Websites & Other Tidbits of Interest
S
top here first for tons of information including history and all other things about the
Facts about the sunflower
from Enchanted Learning.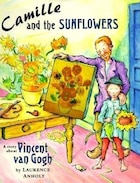 age 2+, this craft can be something extra or it can be used for the front cover of a sunflower lapbook. *Trace flower and glue other bits, like tissue directly to folder.
I haven't tried this one yet, but it looks good. Easy sunflower bread
recipe
cupcake shaped like a flower.
RECIPE INGREDIENTS:
1 cupcake
Yellow (or other color) frosting
1 nonpareil candy



1.

With the leaf or star tip on your pastry bag, pipe petals from the center to
the edge of the cupcake.

2.

Place the
center. Yellow makes a pretty sunflower, but you can make these flowers in all colours.
The Wild Native Sunflower was adopted as the state flower of Kansas, USA in 1903.
The sunflower is found on the state flag and also gave Kansas its nickname of The Sunflower State.
Here's a picture of the sunflower babies taken on April 23rd.